News
Local News
Posted: Apr 19, 2017 9:11 AMUpdated: Apr 19, 2017 9:11 AM
Fair Board Forms Event Center Task Force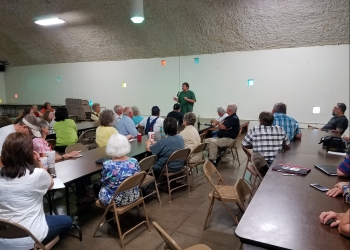 Charlie Taraboletti
Forty people attended a Tuesday night meeting of the Washington County Fair Board in Dewey. Board Chairman Phil Foster related what he new about talks to site a new activity center that potentially could host events such as the county fair on the west side of Bartlesville. After several comments from audience members the board voted to form a task force that would bring what Foster called fairground users point of view to the table.

Committee members include Courtney Fuller, Sharon Adcock, Jenifer Harboar, Rhonda Heskitt, Pat Hopkins and Dewey Mayor, Tom Hays. County Commissioners and others have looked at the feasibility of building a new fairgrounds-type facility for a number of years. Washington County received the results of a feasibility study several months ago. Foster believes whatever is done in the future will have to be a cooperative effort.

There was no discussion of a future timeline or even any expected result other than an effort to bring a wide variety of voices and viewpoints to the table.
« Back to News